Federalism:
Federalism is a form of government in which power is held partly by a central authority and partly by a number of regional or state governments. A system of government in which power is divided between a central authority and constituent political units. Advocacy of such a system of government is termed as federalism.
Indian constitution defines the power distribution between the federal government (the Centre) and the States in India. This part is divided between legislative, administrative and executive powers. The legislative section is divided into three lists: Union list, States list and Concurrent list.
The Union Government and the state governments have co-jurisdiction over legislative powers concerning economic and social plans, social security, education, trade, industry, electricity enterprises etc., Thus The Indian government is quasi-federal in nature.
Governance at Central Level:
Ministry of Human Resource Development (MHRD) is the main governing agency
of Government of India at central level it was renamed from Ministry of Education in 1985.
This ministry is responsible for educational development of the country. The ministry has two departments namely Department of School Education and Literacy and Department of Higher Education.
Educational Administration at urban level:
Directorate of Elementary Education:
At the Pre-primary stage (0-6 years) there is the attempt to establish a linkage between Early Childhood Care and Education (ECCE) and other development programs including the Integrated Child Development Scheme (ICDS), for which Balwadis/Anganwadis or Day-Care Centers are run by Government, NGOs and State Governments.
the administrative set up under the Directorate of Elementary Education
is such that all primary and middle schools in district fall under the Director of
Elementary education. There is a Chief Education Officer (CEO), under whom 2 or 3
District Education Officers (DEO) function to control schools that comes under the
district. Inspectors who visit schools take care of the teaching learning aspects in the ‐
schools that fall under their jurisdiction. Government teachers who hold the direct
link between the government and the children convert classroom policy into action.
The Chief Education officer acts as an Educational Advisor to the Municipal
Commissioner. Some of the important duties of the chief education officer are as
follows:
● To have overall control, supervision on various sections and activities of the
Education Department namely, Municipal Primary Schools b) Secondary
Schools c) Training College d) Research Section e) Music and Art Academy
f) Aided Schools g) Physical Education h) Municipal Teacher's Libraries i)
Teaching Aid Center j) School Feeding Program k) Vocational guidance
Section.
● Appointing authority of Secondary Grade and Specialist Teachers
● Counseling Chairman for Elementary School teachers appointment and
transfer.
● Staff fixation for aided Schools
● Visiting the Schools
● Authority for administrative reasons
● Granting permission for the appointment of aided school teacher
● Works as an Administrative Officer and Education Officer at District level.
● Sponsoring Educational activities and Social Awareness Programmes at
District level
The District Education Officer or DEO controls the whole district with regard to
Education. He manages, guides, hears and redresses the complaints of the teachers,
other staff and general public. All the duties by the teachers and other staff are
compiled under the name of District Education Officer. Each district has three DEOs,
as there are separate DEOs for secondary schools and for boys/ girls elementary
schools.
Administrative functions:
DEOs perform wide-ranging duties and appear to be the most exhaustively
deployed officials in the district. They are required to personally visit each school
within the district at least once every year. They are also required to regularly meet
all Head Teachers in the district not only to keep themselves abreast of developments
in schools, but also to motivate and guide Head Teachers in discharge of their
responsibilities. The DEOs are responsible for registering and monitoring private
schools, cross checking bills for financial payments, preparing budget estimates,
preparing district development programs, maintaining school buildings, ensuring that
school syllabus is covered fully and on time, and responding to Assembly questions.
Academic Functions:
To supervise and inspect all schools in their jurisdiction. This function includes making at least 3-4 school visits, one of which is a day-long thorough school inspection while the other 2-3 are unscheduled surprise visits to monitor the functioning of the school.
Complete exhaustive report of school annual inspection and forward it to DEO.
Collect and compile school-level data on indicators such as enrolment, completion rate, drop-out rate and repetition rate; all data is collected on the basis of gender and social class (Scheduled Caste/Scheduled Tribe/ Backward Class/ Most Backward Class)
Evaluate teachers and make suggestions on teaching practices.
Mediate with the DIETs to send teachers on appropriate training programmes.
Keep track of different training programmers that every teacher in their jurisdiction has attended.
Directorate of School Education:
The administration under the Directorate of School Education goes on from the Director of School Education (DSE) on top to each Chief Education Officer (CEO) posted in the districts, to the one or more District Education Officers (DEOs) posted in every block of a district depending on the size of the blocks, who then in turn directly deal with the primary and middle schools in their district with the help of school inspectors, head teachers and teachers.
Secondary Education and Adult Education:
The Central Board of Secondary Education (CBSE), New Delhi functions under the overall supervision
of the Department of Education, Ministry of Human Resource Development, and
Government of India.
It deals with activities related to affiliation, academics and examination, and is known for introducing innovations and reforms at the secondary and senior secondary levels so as to bring education at par with international standards.
Sarva Shiksha Abhiyan:
The District Programme office is headed by district programme officer and he shall be appointed by the Executive Committee of SSA. He shall have the same powers and responsibilities in relation to the project at the district level as the State Programme Director has at the State Level.
He shall set up Steering Groups for each programme component and functional area. The Head of the Steering Groups will together constitute the District Level Committee (District Task Force) which shall
work as an organic team for furthering the project at the district level.
Functions of the District Programme Office:
The District level committees are responsible for planning, implementation and monitoring the SSA programme in the districts.
Orienting the lower level structure/committees in micro planning, school/village mapping, plan formulation and target fixing.
School / village level plans are to be consolidated at cluster level and block level and incorporated into the district plans – Annual and Perspective District Plans.
Block and village specific goals and targets and area specific programmes and strategies to achieve the same have to be formulated and monitored.
To review progress and status on enrolment of retention, dropout rates etc. block wise.
Implementing approved plan activities as per the calendar. Monitoring programme implementation through periodical reviews, visits to schools Block Resource Centre (BRC) and Cluster Resource Centre (CRC).
Maintaining and updating household data and school information for cent percent enrolment and compilation at the district level.
Distribution of grants to various agencies and monitoring the proper and transparent utilization of grants released.
To identify critical infrastructure requirements and plan to bridge the same.
Monitoring the progress and quality of Construction works undertaken in the districts.
Organizing awareness campaigns, district level functions. Monitoring the proper distribution of various incentives to children
Securing the coordination and cooperation of other agencies like, NGOs, self help groups, Government Departments, etc. for enrolment, tackling drop outs, achievement levels and quality of education.
Supervising the training programmes at the district and blocks and assessing the impact of the training.
Conducting research activities both formal and action research through SSA personnel and research scholars, in the districts.
Higher education level:
In the tertiary sector, the following bodies maintain funding and determine standards
for higher education at the national level.
University Grants Commission
All India Council for Technical Education
Medical Council of India
Indian Council of Agricultural Research and
National Council for Teacher Education
Entry 66 of List I (Union List):
It is related with Coordination and determination of standards in institutions for higher education or research and scientific and technical institutions. This entry is of vital importance as it vests on the Union
Government the sole responsibility to ensure that higher education or research, scientific and technical education are not dropped in the hands of any state to harm the national interests.
Technical Education:
The administration of technical education is done through the All India Council for Technical education. (AICTE), set up as an advisory body in 1945, it was given a statutory status through an Act of Parliament in 1987, which came into effect in March 1988.
The main functions of the statutory AICTE include proper planning and coordinated development of technical education in the country.
The AICTE regulates foreign institutions, which provide technical education either directly or through collaboration with Indian partners.
Adult Education:
There is a central scheme of assistance to voluntary agencies in Adult education in
which the agencies are encouraged to take up area specific projects, establish and run
post literacy centres.
Vocational Education:
This institute's activities revolve around the review and
standardisation of curriculum/textbooks/ instructional material, teacher training
programs, and inter-state interaction to facilitate and share information and
experiences related to vocational education.
Apex institutions:
The NCERT is the apex resource organisation assisting and advising the central and
state governments on academic matters related to school education. The constituents
of the NCERT include:
● National Institute of Education, New Delhi.
● Central Institute of Educational Technology, New Delhi.
● Five Regional Institutes of Education, located at Ajmer, Bhopal,
Bhubaneswar, Mysore and Shillong.
● Pandit Sundarlal Sharma Central Institute of Vocational Education, Bhopal.
● Field Offices in major states.
National University of Educational Planning and Administration (NUEPA) conducts research, organizes training, provides consultancy services and disseminates important information on innovations, changes and developments in the areas of planning and management.
Governance at State Level:
The states job is to facilitate the process of community mobilisation by providing communities with the necessary knowledge and skills, and making sure communication takes place effectively among different stakeholders, including parents, community members, teachers, and government officials. As the recognition of community participation increases, careful examination of its exercises becomes
more important.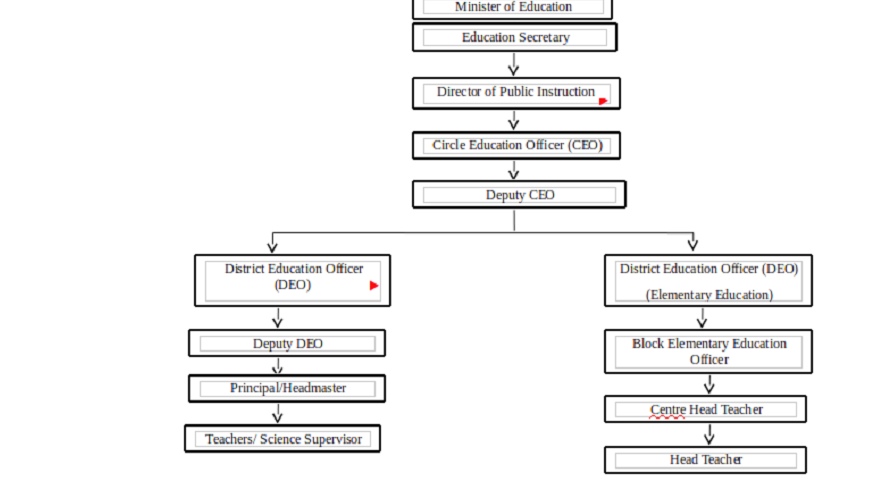 Educational Administrative Set Up of School Education at State Government Level:
The structure of school education refers to the ladder of education at school level. This can be visualized from two perspectives viz. academic and administrative.
Within a state there is generally a four-tier structure of administration division:
1. district, taluka/tehsil/block, and village.
The district has been so far the most important unit of administration. Some of the states have introduced the system of Panchayati Raj, generally a three-tier structure of local self- government in rural areas at the village, block and district levels. Two recent constitutional amendments have bestowed on the local bodies in rural and urban areas constitutional status and specific functions including education, covering education upto secondary level, technical training and vocational education, adult and non-formal education.
These amendments will strengthen decentralized management of education at the grass-root level. At State level the position differs at different levels. Some States have separate Departments/Ministries' like Higher Education/ Technical Education/School Education etc.
At the pre-primary stage (0-6 years) there is the attempt to establish a linkage between elementary education and other development programmes including the Integrated Child Development Scheme (ICDS), for which Balwadis/Anganwadis or Day-Care Centres were opened. Some schemes are run by state government along with NGOs working in the field. The principle of decentralisation has been extended to the management of primary education and Village Education Committees (VECs) have been set up in many parts of the country. These Committees are responsible for the enrolment and retention of children in schools, supervise the functioning of schools, check teacher absenteeism and mobilise additional resources for the schools.
Thus, attempts have been made to elicit community participation not only in the preparation of educational plans but also in the administration of education including mobilisation of additional resources. District Boards of Education (DBE) plans and administers education at the district level. District-specific plans have been developed to increase infrastructural facilities, develop instructional material, train teachers, etc.
The structure of educational administration at the district and sub district level includes the structure, both at rural as well as urban level. Every district has panchayat standing committee which includes panchayat representatives of block panchayats which further include members of village panchayats. The district panchayat committee is sub-coordinated by the district education officer (DEO) which is further coordinated by the district project coordinator for project management at district level. Each district is divided into small blocks. Block is a group of villages. Each block has its own block panchayat standing committee further coordinated by the block education officer and the projects related to education are managed by the block resource centre. At the village level structure of educational administration includes village panchayat sub coordinated by assistant education officer which further has cluster coordinator to manage projects. At village level, village education committee has mother teacher council. A host of institutional structures between the district level and the schools have been set up in
the last one decade to strengthen the schools as well as the curriculum framework, namely:
Block Resource Centres
● Cluster Resource Centres
● District Institutes of Education and Training
Block Resource Centres (BRCs) and Cluster Resource Centres (CRCs) were established in each block of every district under Sarv Shiksha Abhiyan to conduct in service teacher training and to provide academic support to teachers and schools on a regular basis as well as to help in community mobilization activities.
Role of local bodies in education:
The amendment which is known as the Forty-Second amendment of the Indian Constitution 1976 education was put on the Concurrent list.
The principle of decentralization has been extended to the management of primary education and Village Education Committees (VECs) have been set up in many parts of the country.
These Committees are responsible for the enrollment and retention of children in schools, supervise the functioning of schools, check teacher absenteeism and mobilize additional resources for the schools.
Thus, attempts have been made to elicit community participation not only in the preparation of educational plans but also in the administration of education including mobilization of additional resources.
For successful implementation of decentralisation, the main issue seems to be the establishment of institutional mechanisms below the state level.
The local self-government system under Panchayati Raj is conceived to consist of three tiers of political-administrative structures beginning at district level through the block level and the village level.
This is also viewed as facilitating the emergence of grassroots democracy involving people in local electoral process.
While political decentralization was to follow this framework, it was deemed appropriate to designate block level as the main unit for development administration. Thus, a Block Development Office was established in each block consisting of 100-150 villages.
The basis of local administration is decentralisation, and what is needed is that local administration should be strengthened and made effective.
The Block Education Office now deals with elementary primary education in many states, while the District Education Office directly governs secondary education.
Community Development programmes had recommended a three tier system of Panchayati Raj. It is of pyramidal structure, Village Panchayat being at the bottom, Zilla Parishad at the top, while Panchayati Samithi is to serve as the intermediary agency.
Zila Parishad and Education:
With respect to education, the Zila Parishads are concerned with the establishment, maintenance and expansion of secondary schools
Educational function of the Zila Parishad is carried out through the assistance of the standing committee for Education. Standing committee in the Zila Parishad administration is related to Education, medical and public health.
Roles identified for Zilla Parishad (district level body) include the construction of roads to connect all the schools and colleges in the district; the construction and maintenance of primary and secondary schools; the construction and maintenance of hostels, ashram shalas
Panchayat Samitis and Education:
Consequent on adoption of democratic decentralisation in the form of Panchayat Raj, the responsibility of Primary education has been shifted to Panchayat samitis.
By making Panchayat samitis block as a unit of administration of primary education, the state government intends to bring the administration and primary education which almost constitutes mass education, closer to the people and ensures their direct interest and participation in it.
Educational function of the Panchayat Samitis is carried out with the help of the standing committees for education.
Panchayat Samitis (block level bodies) are expected to perform a variety of functions particularly with respect to elementary education. These include the promotion of primary and secondary education, the construction and maintenance of school buildings, and the provision of education for working children.
Maintenance and expansion of elementary and basic schools and in particular includes

Management of government and taken over aided elementary and higher elementary schools.
Establishment of adult education centres and adult literacy centres.
Provision and improvement of accommodation for schools with people's participation.
Taking of such action as may be necessary for the promotion of education for all children until they complete the age of fourteen years.
Gram Panchayat Institution:
The Programme of Action approved by the CABE attaches considerable importance to Village Education Committees (VECs) which is constituted by Village Panchayat comprising a group of Villages.
The village normally represents a cohesive community and is ideally suited for promoting programmes, involving support of the community, such as, Early Childhood Care and Education, Primary Education, Non-formal Education and Adult Education. VEC may be considered the ideal organisation to mobilise and involve people in the educational efforts.
The functions of Gram Panchayat include, implementation of welfare plans, social justice and development, upliftment of women, economic development, etc. Gram Panchayat also plays a significant role in educational management at grass root level.
In order to secure effective participation of the people, there was a need for broad-based participative structures for education as distinct from the general Panchayati Raj structures.
Gram Panchayat (local self-governing body at the village level) will provide education through primary and middle schools, create awareness among the people and ensure enrolment of all the children in the primary school, construction and maintenance of hostels, etc
Decentralization of decision making:
Community participation can contribute to education delivery through various
channels. Decentralization facilitated community leaders to accept the responsibility and share to one desirable extent in the educational programmes and implementation of educational plan.
The following is a list of ways through which local management can contribute towards the education system.
advocating enrolment and education benefits;
boosting morale of school staff;
raising money for schools;
ensuring students' regular attendance and completion;
constructing, repairing, and improving school facilities;
contributing in labour, materials, land and funds;
recruiting and supporting teachers;
making decisions about school locations and schedules;
monitoring and follow up on teacher attendance and performance;
forming village education committees to manage schools;
actively attending school meetings to learn about children's learning progress and classroom behavior;
providing skill instruction and local culture information;
helping children with studying;
garnering more resources from and solving problems through the education bureaucracy;
advocating and promoting girls' education; providing security for teachers by preparing adequate housing for them;
scheduling school calendars;
handling the budget to operate schools;
identifying factors causing educational problems (low enrolment, and high repetition and dropout); and
preparing children's readiness for schooling by providing them with adequate nutrition and stimuli for their cognitive development.
Advantages of Local Governance in Education:
Solution at grass-root level:
The local self- government solves the problems of rural people at the grass-root level. This strengthens democracy. The typical needs of a particular village are well attended by this system of government. The state government remains so much busy with multifarious functions that it seldom gets time to attend to the basic problems of different rural areas. The local government reduces the burden of responsibility of the state government to a large extent.
Perform various functions:
The functions performed by the local selfgovernments are vital for making life of the local people happier and prosperous. The various needs of the rural areas such as construction and maintenance of roads, availability of water, construction of schools and education facilities, improvement in agriculture, etc. are taken care of by the local self-government.

Encourages local leadership:
The problems of particular rural area can be best attended by the members of the Panchayat. The state or national government cannot do so because of so many reasons. Therefore, the problems of local people are solved by local leaders through the institution of local self- government. The real improvement in the social and economic conditions of people can happen only through their intentional participation in the developmental plans and programs.
Training ground of citizenship:
The local people are motivated to confront and solve their problems on their own. They become less dependent upon other external agencies. It creates confidence among the local leaders at the grass-root level. These leaders put their best foot forward. Many local leaders advances their career to become state-level and national level politicians.
New experiments:
New infrastructural and developmental projects can be first implemented at local level to gauge its impact on the system. Successful projects can later be introduced in other areas of local government.
Shortcomings of democratic decentralisation:
Enforcing decentralisation and democratisation before sufficiently educating people as to the democratic value and practices is feared to result in disastrous consequence.

The danger of favouritism, partisan spirit and nepotism creeping into village life has been recognised by some leaders.
Age old rivalries, the rigid hierarchical behaviour of village community and caste localities may tend to render decentralisation as sense formalism.
Over emphasis on devolution of power to the matter units is considered to be not so desirable for the development of Indian nationhood by same.
Problems and possible solutions :
Improvement of management and supervision of schools has not taken place. On the other hand, dual governance is felt.
The roles of the officers of the Education Department and those of the non-official functionaries is not clearly spelt out. The functions of the Deputy Secretary, as a liaison officer, are not up to expectation.
The supervision of the Education Department over the educational wing of the Panchayat Raj is unsatisfactory.
Teachers are drawn into politics. There are frequent transfers of teachers on grounds other than administrative, resulting in the deterioration of educational standards and discipline in schools.
Uniform development of education in different districts is not affected.
Challenges in front of Local Governance:
Regionalism: Sometimes it is criticized on the ground that it incites regionalism.
The local leaders get so much entangled in the solution of their own problem that
they hardly look into the things beyond their nose and join the national mainstream.
Fail to address National problems: Secondly some critics remark that the leaders at the local level fail to appreciate the state or national problems in their real perspective because of the very difference in the nature and scope.
Local elitism: Local elitism is a major problem. Sometimes resources for development can be captured by local elites and used primarily for their own benefits rather than of intended beneficiaries.
Decreasing interest of community members: Decreasing interest of community members is also a big threat in the way of decentralisation. Individual or community management of education has been a cultural phenomenon in India from ancient period to present time but it is reversing when it is formally assigned to the community.
Illiteracy and low educational level: Illiteracy and low educational level havecumulative impact on the actualisation of the democratic participation decentralisation. Illiteracy bars the flow of information to some predefined/definite section of the community and makes them unaware about their roles, rights and responsibilities.
Lack of interest on the part of political leaders and bureaucrats:

These groups never attempt seriously to include all the sections of the society in the management of education. Some socially, economically deprived groups dare not to raise their voices and communicate their educational needs. Political leaders and bureaucrats use to maintain secrecy regarding public rights and their roles in the systems.

Dearth of human resources fit for the work is a major problem of the field:

Education sector is deprived of the administrative leaders who have first-hand experience of the system as well as interest to improve the system. It needs selfmotivated personnel who can realise the existing policies like decentralised management and can conceive innovative plans and strategies to implement them.
Agencies of educational Administration:
The Minister of Education formulates the policies in consultation with the cabinet. He is responsible for the implementation of the policies. He is assisted by education secretary and DPI (Director Public Instruction). Functions of Minister of Education are:
Formulation of education policies and providing leadership to the educational
programme of state.
● Framing of policies, procedures, rules and regulations to determine standard
of education.
● Coordination of the education programme of the states in order to promote
efficiency.
● Inspection and evaluation to determine efficiency of the operations.
● Providing consultative and information services.
● To run schools established by government.
Promoting research activities related to education program.
● Advising the legislature on certain issues and matters and satisfying the
legislators about the efficient conduct of educational administration by
replying on the questions asked by them.
Education secretary acts as a link between the minister and DPI (secondary). The director's proposals are critically examined by the staff of the secretariat before being submitted for the approval of the minister.
Directorate of Education:
It is an executive body carrying out the policies of
government. The director of education or director of public instruction is the highest
officer of Directorate of Education. Generally DPI is a technical expert and chosen
for his long teaching, inspecting and administration experience in the department. As
the highest executive he is responsible for the administration of education in the
entire state. Assisted by the number of deputy and assistant directors he performs the
following functions:
To present proposals of policy to the education secretary and to executive,
if approved by the education minister.
To keep government informed about the conditions and progress of all
types of education and the people's needs and requirements regarding
education.
To supervise, control, inspect and guide the educational institutions
including private institutions in the state.
To supervise the work of the government officials, inspectors, teachers of
government institutions and to deal with their leave, transfer and
discipline.
To disburse funds as sanctioned by the government.
To determine and disburse grant in aids to privately managed institutions.
To organize training of secondary school teachers.
To provide expert advice both to the institutions and secretariat.
Circle Education officer:
Ordinarily every state has been divided into regions, circles or divisions from administrative point of view. The organization of education on regional and circle basis has been made in order to establish and coordinate the functioning of district education authorities belonging to particular region or circle
and for efficient disposal of official business. These circles come under the supervision of Circle Education Officer (CEO). These circles are having their own CEO's.
District Education Officer:
The success or failure of the programs concerning secondary and elementary education depends upon the activities at district level. The highest level officer of education at district level is the District Education Officer or District Inspector of schools. There are two DEOs in every district, one working as DEO (Secondary) and other DEO (Elementary). There are other officers to assist them in their work. Every district of each division has the offices of DEOs stationed at District Headquarters. DEO performs almost all the functions as are performed by DPI at the state level. Important functions of DEO are
To give recognition to schools in his district when the schools fulfill certain conditions.
● To issue grants to the aided schools.
● To organize district level sports competitions.
● To supervise the functioning of school.
● To carry-out the annual inspection of the schools.
● To implement the policies and orders of the highest authorities
regarding education.
● To give directions to the subordinate staff.
● To hear cases of teachers and give judgments regarding their cases.
Higher Education is the shared responsibility of both the Centre and the States.
Following bodies determine and maintain standards for higher education and funding
at the national level:
UGC (University Grant Commission):
The UGC, however, was formally established in November 1956 as a statutory body of the Government of India through an Act of Parliament for the coordination, determination and maintenance of standards of university education in India. In order to ensure effective region-wise coverage throughout the country, the UGC has decentralised its operations by setting up six regional centres at Pune, Hyderabad, Kolkata, Bhopal, Guwahati and Bangalore. The head office of the UGC is located in New Delhi, with two additional bureaus. At present, the main categories of University-level Institutions are: Central Universities,
State Universities, Private Universities, Deemed Universities, UGC Affiliated colleges and Autonomous Colleges.
National Council for Teacher Education (NCTE):
National Council for Teacher Education (NCTE) is an Indian government body set up under the National Council for Teacher Education Act, 1993 in 1995. The main function of the NCTE is to achieve planned and coordinated development of the teacher education system throughout the country, the regulation and proper maintenance of norms and standards in the teacher education system and for matters connected therewith. This council functions for the central as well as state governments on all matter with regards to the teacher education.
The mandate given to the NCTE is very broad and it covers the teacher education programmes including research and training of persons for equipping them to teach at pre-primary, primary, secondary and senior secondary stages in schools. The regulations and role of the Council is to
Co-ordinate and monitor teacher education and its development in the country;
lay down norms for different courses of teacher education, including the minimum eligibility criteria for admission
lay down guidelines for compliance by recognised institutions, for starting new courses or training, and for providing physical and instructional facilities, staffing pattern and staff qualification;
lay down standards in respect of examinations leading to teacher educator qualifications, criteria for admission to such examinations and schemes of courses or training;
lay down guidelines regarding tuition fees and other fees chargeable by recognized institutions;
formulate schemes for various levels of teacher education and identify recognized institutions and set up new institutions for teacher development programmes;
Take all necessary steps to prevent commercialization of teacher education.
NCTE in collaboration with the All India Primary Teachers Federation (AIPTF), All India Secondary Teachers Federation (AISTF) and All India Federation of Educational Associations (AIFEA) developed a Code of Professional Ethics for Teachers, in 1997 which can be used as model by the teachers.
Code of conduct and Code of ethics represent two of the most common ways of self-regulation. Ethical standards help the teachers in making independent judgments about the most appropriate course of action while conduct standards provide a fairly clear set of expectations about which actions are required, acceptable or prohibited. In any institution, written rules and regulations about how teachers have to behave in various situations make the teacher aware about present and future impact of teaching on students' personality.
Thus a code of professional ethics is a document that outlines a set of principles, issued by a higher authority which affect decision-making and guide the teachers to discharge their duty towards students, parents, colleagues and community.
Central Advisory Board of Education (CABE):
In 1952, Kher Committee of the CABE strongly recommended that "in the interest of mass education and in view of the constitutional directive on universal, compulsory and free primary education. Thus, after independence, the role of local bodies in primary education has become more and more active. The recommendations of the Kher Committee were not universally adopted by all the states. Even after the reorganisation of the states in 1956, education is administered by the state governments in some states while in others responsibility for primary education has been entrusted to local bodies.
It enhances the flexible curriculum and scientifically designed student assessment system.
It focuses on the need for decentralized micro level planning. Allocation of 6 per cent of GDP for education.
The Central Advisory Board of Education (CABE) Committee's Report on Universalization of Secondary Education.
Different Committees gave several recommendations on Secondary Education CABE Committee Report- Focuses on universal access, equality, and relevance. It enhances the flexible curriculum and scientifically designed student assessment system.
It focuses on the need for decentralized micro level planning. Allocation of 6 per cent of GDP for education.
The CABE, which includes representatives from the central and state governments and other experts, coordinates between the centre and the states.
At the central level, the direction of the educational policy is in the hands of Central Advisory Board of Education (CABE) , which is headed by educationist and educational administrator. A draft national curriculum was prepared & circulated across different section Draft of national curriculum was placed before the central advisory board of education for its approval in June 2005. CABE committee (1993) report also emphasises the decentralisation of powers for the successful educational management.
This draft national curriculum underwent certain changes and came for approval of the CABE.
A broad-based participative structures for education as distinct from the general Panchayati Raj structures. According to CABE committee recommendations, these are the structures of Zila Parishad for educational administration
Zila Parishad Standing Committee on Education (ZPSCE) comprising not less than 15 and not more than 21 members includes○ The Chairman, Zila Parishad; ○ A representative each of SC, ST, BC and Minorities; ○ A representative of PTA/ NGO; ○ Two or more representatives of Panchayat Samiti and Panchayat/ Village Education Committees; ○ Principal of a College; ○ Professor of Education from University/ College; ○ Principal of DIET; ○ A Head of school complex/secondary school; ○ A representative of teachers; ○ Member Secretary- Chief Education Officer or equivalent
Trends in Educational Administration:
Within a state there is generally a four-tier structure of administration–division, District, block and village.
This stresses the need for educating the emerging leadership of rural areas in democratic values and practices to enable them to carry out the functions which democratic decentralisation places on their shoulders efficiently and effectively.
From 3 tier constituional significance to six tier one consisting of village panchayat, block panchayat samitis, district panchayat parishads, state panchayat parishads, national panchayat parishads, and world panchayat parishads.
Decentralization of decision making:
Community participation itself is not a goal in educational delivery, nor a panacea to solve complicated issues contributing to poor educational quality in both developing and developed countries.
It is a process that facilitates the realization of improving educational quality and the promotion of democracy within society.
Present day need is to involve communities at various stages of monitoring like; preparation,
implementation, and evaluation.
Communities are also expected to develop and strengthen these capacities so that they can contribute more towards the governance and management of education.
a six tier one consisting of village panchayat, block panchayat samitis, district panchayat parishads, state panchayat parishads, national panchayat parishads, and world panchayat parishads.
This stresses the need for educating the emerging leadership of rural areas in democratic values and practices to enable them to carry out the functions which democratic decentralisation places on their shoulders efficiently and effectively.
Decentralised organisational development:
1. There is need to define clearly the powers and responsibilities of the Deputy Secretaries, Education in Zila Parishads. For this purpose, it is essential to appoint only trained graduates for the said posts and their designations should be changed as the Education Secretaries of the Zila Parishads.
2. They should be endowed with full powers necessary to carry on their functions relating to the educational wing of the Panchayat Raj.
3. The extension officers, education should be placed under the administrative control of these Education secretaries.
4. Experienced educationists and retired educational administrators should be associated with education under the Panchayat Raj by taking them into the educational standing committees as the members.
5. Alternatively District advisory boards of education may be established to replace the standing committees associating experienced educationists, retired educational administrators, headmasters of schools, office-bearers of the teacher's organisations, teacher M.L.Cs, Members elected from the Graduates Constituencies and members of Lok Sabha and Rajya Sabha of the district.
6. Suitable education in organisation and administration should be given to the non-official functionaries of the Panchayat Raj who have to deal with education in a planned and phased manner to enable them to carry out executive functions in due course.
7. The powers of appointment, transfers, control and discipline should be vested in the district Educational administrators only. Such a step would be in concurrence with the recommendation of the Kothari Education Commission.
8. District Selection Committees should be formed under the chairmanship of the District Educational Administrators so as to facilitate recruitment of suitable personnel for the teaching, ministerial and administrative positions associating prominent educationists and other experienced educational administrators.
9. Teacher Welfare Committees should be established in each of the Zila Parishad to look to grievances, amenities and housing problems of school teachers.
10.The chief function of the non-official functionaries should be categorically delimited to the educational expansion programmes such as providing of equipment, apparatus, furniture, accommodation for schools and schooling staff, mid-day meals, voting of grants, etc. They should be given only reviewing and advisory powers leaving executive function to the departmental personnel.
11. To have the academic inspection of the Zila Parishad Schools that there should be some special educational inspectors under the administrative control of the District Education Officers. The D.E.O's will, of course, continue to wield appellate powers over the Education wing of the Zila Parishad as contemplated in the reorganisation of the District Educational Administration.
General Problems of Educational Administration:
Limitations of State Machinery: The work load of Director of Education and District Inspector of Schools is so heavy that they cannot bear it well. In some states there are separate posts of Director of Primary Education and Director of Secondary Education, but in others there is only one post. Various suggestions were given by Secondary Education Commission and Kothari Commission to solve such problems but no concrete steps have been taken in this direction.
Disadvantages of the constitutional division: The division is theoretical and ambiguous. Even after the division, the three units: Central government, State government, Local government are interdependent. There is no clarity of their programmes. There is inaccurate implementation of plans concerning the educational development and expansion and regarding starting up of various programmes. There exists lack of cooperation amongst them which has created many obstacles in the educational organisation.
Vested interests of Private Managements: India is presently suffering from the problem of scarcity of resources and artificial scarcity created by affluent and powerful persons to fulfil their vested interests. The failure of people connected with the management of the schools and their vested interests is affecting the teachers as well as increasing educational expenditures which affects the students.
Insufficient sense of responsibility by authorities: District inspectors are more active to their rights connected with their posts and their administrative powers than to their responsibility. Hence, they fail to behave properly with their subordinates and other capable and experienced persons. They do not get necessary help and co-operation from them. Their subordinate officers and employees also lack sincerity and proper behaviour. The attitude of educational officers is authoritative and critical instead of cooperative and helpful in matter of inspection of schools and its problems. So they do not help in solving problems.
Less efforts of Co-ordination: The Indian central government intends to shift the burden on state governments on the pretext of constitutional provisions. The agencies of co-operation or contact among the state governments through which uniformity can be maintained are less effective. Though after the establishment of regulatory bodies like UGC and different boards of education many of such problems have been solved, still the problem of co-ordination has not been uprooted.
Problem of Red-Tapism: Educational programmes need to keep changing with the changing demands of the society. The changed programmes should be implemented even more rapidly. The present education system suffers from red-tapism. The money sanctioned in various plans was never utilised fully. Many important programmes remained enclosed in the departmental files at one stage or the other and finally the money was either spent on some other work or returned as such.
Leadership: Problems in educational administration stem from lack of leadership. School administration officials are usually former teachers or principals who have worked hard to qualify for their positions and have many years of experience. But experience does not necessarily qualify one to be a leader. Educational administrators must adhere to policies, even if they do not personally agree with them. Good leaders compromise without sacrificing the integrity of the system.
Communication: Confusion results when administrators do not have regular and open lines of communication with their teaching staff or with their superiors. Because of overwhelming responsibilities, principals tend to become less accessible, which leads to less face-to-face interaction, which is important for the teachers and students. Instead, issues usually are addressed in general meetings because of time constraints.
Disconnect: The teacher-student relationship is a closed one that is nurtured by everyday interaction. A disconnect can result when a similar level of familiarity between teachers, principals, and district leaders is not maintained. This causes resentfulness on the part of teachers, who perceive a lack of concern and distorted priorities on the part of their superiors. When teachers become indignant, their performance suffers along with student achievement.
Partiality: A major problem can occur in schools when certain teachers, parents or community leaders are shown favouritism based on their degree of influence or relationships with administrators. An effective administrator will make decisions based upon what is deemed to be best for the student and will stand firm in her position as advocate for children.
Politics: In schools that have elected leaders and school boards, competition and fierce ambition can cause a problem when these concerns override the main purpose of education. Principals who prefer one candidate over another may try to persuade teachers to be like-minded. Some candidates may use low test scores and high dropout rates as weapons to force current leaders out of their positions, thereby casting the district into a negative light. If communities do not see their educational leader as a person of integrity, the motivation to participate in school improvement projects is diminished, thereby negatively affecting the future of their children's education.
Equalization of educational opportunities:
Democratic management of educational institutions has expected to increase equal access (equality) in education through creating inclusive setup which would cater to the local needs. This decentralisation has been proposed as a way to equality and 'quality in education'. This equality in education will ultimately lead to equality in other walks of life and will result in inclusive society.
Our Constitution laid down that in the eyes of law everyone should have an equal status, everyone should have liberty of thought, expression, and to practice his own faith and belief, and the dignity of each individual should be assured.
The amendment which is known as the Forty-Second amendment education was put on the Concurrent list.
By having education in the Concurrent list, the Centre can implement directly any policy decision in the states.
The Government of India is wedded to the establishment of an egalitarian society and therefore has taken many steps to provide equal educational opportunities to the weaker sections of the society. It has initiated a large number of programmes in this direction.
In India, the principal aim of the education system has been to provide free and compulsory elementary education to all the children between the age of 6-14 years, and provide equal opportunities to all irrespective of gender, caste and class.
In order to achieve these aims, educational policies have been formulated and they have been suggesting various means to achieve this target. Policy directives have been provided by various committees and commissions.
Policy framework for decentralised governance:
While some of the committees have looked into the specific level of education (e.g. Radhakrishnan Commission on Higher Education, Secondary Education Commission or Mudaliar Commission on secondary education), others have concentrated on all levels and aspects of education of the specific groups.
To equalize educational opportunity by Kothari Education Commission

The education of girls should receive emphasis, not only on grounds of social justice, but also because it accelerates social transformation.
To promote social cohesion and national integration the Common School System as recommended by the Education Commission should be adopted.
All special schools like Public Schools should be required to admit students based on merit and to provide a prescribed proportion of free-studentships to prevent segregation of social classes.
The distribution of access to basic educational facilities across the states is unequal and uneven. Therefore, while formulating the education policy, the differential educational development across the states have been kept in consideration and therefore emphasis has been on the reduction of regional, social and gender disparities.
The Right to Education Act, 2009:
The act seeks to implement the fundamental right to education for all children(including children with disabilities) between 6 to 14 years. The central RTE Rules were notified on 8 April 2010. Till date, 32 states, including Gujarat, Andhra Pradesh, Himachal Pradesh, Orissa, Rajasthan, Punjab, Haryana and Manipur have notified state RTE Rules. The government has committed 2.3 trillion… . for five years (2010–11 to 2014–15) to implement the Act. The fund sharing pattern between the centre and the state is in the ratio of 65:35 for five years. The act makes it mandatory for all schools to meet certain minimum norms. They have to meet the Pupil–Teacher Ratio (PTR). All other schools require a certificate of recognition and
it shall be granted if the school satisfies certain norms such as PTR, infrastructure and qualification of teachers. Schools that do not meet these norms within the prescribed timeframe shall be shut down. In case the school violates this provision, it shall be liable to a fine.
● If we compare the regulations of Government schools and private schools, Government schools have to provide free and compulsory education to all admitted children. For aided schools as well as unaided schools, the extent of free education would be proportionate to the funding received, provided that
a minimum of 25 per cent seats are reserved for disadvantaged students. All other schools (including unaided schools) have to reserve at least 25 per cent of seats for the students from SC, ST, low-income, and other weaker groups (including children with disabilities). Unaided schools shall be reimbursed for either their tuition charge or the per-student expenditure in government schools, whichever is lower. If the per-student expenditure is higher than the government schools, the private school has to bear the cost.
● The act prohibits physical punishment or mental harassment, screening procedures for admission of children, capitation fees, private tuitions by teachers and running schools without recognition. It also prohibits children from being held back in class, expelled or the requirement to pass a board
examination until the completion of elementary education.
● It is important to understand the extent of regulation for various types of schools. The only requirement for government schools is to meet the PTR norm. However, private schools are subject to lose their recognition and shutting down if they do not comply with norms for PTR, infrastructure and
teaching.
This act only specifies penalties in case a school collects capitation fees or subjects the child to a screening procedure during admission. Furthermore, the act enhances the role of all the stakeholders to ensure enrolment of all children, but does not identify which government agency will be responsible for
this task. In 2008, the National Knowledge Commission (NKC), recommended the setting up of a testing body at the national level for quality assessment of both government and private schools. The testing body would monitor schools on the basis of various types of Indicators such as learning levels, enrolment and attendance.
Financial Management:
Role of Central Government in Educational Financing:
The Central Govt. gives grant-in-aid to states, universities and special institutions in order to help them to discharge their educational obligations.
It gives special grants to backward states in order to equalize them with other states. It finances the centrally administered areas and gives scholarships and stipends under the various scholarship schemes.
The contributions of the Central Government and State Governments have increased due to the following reasons

The Central Government must assist the backward states for providing better educational opportunities.
The Central Government must assist the state in realizing the constitutional
provisions for providing compulsory primary education in the age group 6 to 14
years.
The Central Government has large resources for collecting finances.
Central funds must be utilized for providing equality of opportunity.

The Central Government assists the states for educational development in three ways:

Central Government performs educational functions through NCERT, UGC,
Central Universities, Central School organizations, etc.
Central Government sponsors schemes fully financed by it but implemented by the States.
Central Government partially finances some programmes, planned and implemented by the State Governments.
The central government has also set up some specialist institutions for encouraging education in the country. Centrally sponsored programs run by central government to make EducationalAdministration effective and efficient.
The following programs are being implemented in the Education Sector by central government for efficient management:
Sarva Shiksha Abhiyan:
Launched in 2001 Sarva Shiksha Abhiyan (SSA) is one of the India's major flagship program for universalisation of elementary education. Its overall goals include universal access and retention, bridging of gender and social category gaps in elementary education, and achieving
significant enhancement in learning levels of children.
Provisions of Right to Education Act are being implemented through SSA. Accordingly, norms have been revised / modified to align them with the requirement of RTE Act, 2009.
Universalization of elementary education is the focus of the Right to Education Act and implemented in terms of the constitutional amendment which has also made childhood care and education (pre-primary education) a Directive Principle of the State Policy.
The government has committed 2.3 trillion… . for five years (2010–11 to 2014–15) to implement the Act. The fund sharing pattern between the centre and the state is in the ratio of 65:35 for five years. The act makes it mandatory for all schools to meet certain minimum norms. They have to meet the Pupil–Teacher Ratio (PTR). All other schools require a certificate of recognition and it shall be granted if the school satisfies certain norms such as PTR, infrastructure and qualification of teachers. Schools that do not meet these norms within the prescribed timeframe shall be shut down. Some of the key indicators to monitor includes learning levels, enrolment and attendance.
Mid-Day Meal Scheme (MDMS):
In keeping with the Constitutional provisions to raise the level of nutrition of children and enable them to develop in a healthy manner, the National Program of Nutritional Support to Primary Education (NP-NSPE) was launched as a centrally sponsored scheme in 1995.
Commonly referred to as MDMS, this was expected to enhance enrolment, retention, attendance of children in schools apart from improving their nutritional levels.
The National Programme of Mid-Day Meal in Schools is now covering all children studying in Classes I-VIII in Government, Government-aided, Local Body schools, National Child Labour Projects schools, Madarsas and Maktabsunder SSA.
The Rashtriya Madhyamik Shiksha Abhiyan:
The major objectives of the RMSA is to raise the minimum level of education to class X and universalize access to secondary education. It seeks to achieve an enrolment rate of 75 per cent within five years, universal access by 2017 and universal retention by 2020.
Saakshar Bharat' Mission:
In the context of Government's overall policy aimed at empowerment of women and in recognition of the fact that female literacy is a force multiplier in all actions for social development, the
National Literacy Mission (NLM) was recast with renewed focus on female literacy
The Saakshar Bharat Mission envisions a"fully literate society through improved quality and standard of adult education and literacy"
The main goals of the Mission, to be achieved by 2017, are:

raising literacy levels to 80 per cent (from 73 per cent in 2011), reducing gender gap in literacy rate to 10 percentage points (from over 16 percentage points in 2011), and bridging urban-rural and social group disparities in literacy level
Role of State Governments in Educational Financing:
The Finance Commission transfers adequate resources at the end of each Plan to each State under:
(a) Share in Income-tax,
(b) Share in excise, and
(c) Lump-sum grant-in-aid.
The state recognizes schools and other institutions run by private bodies in accordance with set rules and regulations.
It also provides them with suitable aids and grants to run efficiently and effectively. Financial aid is also given to Universities, functioning in the state.
Fiscal decentralization:
Financial responsibility is a core component of decentralization. If local governments and private organizations are to carry out decentralized functions effectively, they must have an adequate level of revenues either raised locally or transferred from the central government as well as the authority to make decisions about expenditures. Fiscal decentralization can take many forms, including:
self-financing or cost recovery through user charges;
co-financing or co-production arrangements through which the users participate in providing services and infrastructure through monetary or labor contributions;
expansion of local revenues through property or sales taxes, or indirect charges intergovernmental transfers that shift general revenues from taxes collected by the central government to local governments for general or specific uses; and
Authorization of municipal borrowing and the mobilization of either national or local government resources through loan guarantees.
Economic or Market Decentralization:
The most complete forms of decentralization from a government's perspective are privatization and deregulation because they shift responsibility for functions from the public to the private sector. Privatization and deregulation are usually, but not always, accompanied by economic liberalization and market development policies. They allow functions that had been primarily or exclusively the responsibility of government to be carried out by businesses, community groups, cooperatives, private voluntary associations, and other non-government organizations. Here Privatization means leaving the provision of goods and services entirely to the free operation of the market to "public-private partnerships" when government and the private sector cooperate to provide services or infrastructure. The word Deregulation means reducing the legal constraints on private participation in service provision or allows competition among private suppliers for services that in the past had been provided by the government or by regulated monopolies.
Role of Local Bodies in Educational Financing:
Local Bodies like Municipalities, Boards, District bodies, Zilla Parishads and Panchayats run schools in their respective areas. They appoint staff, provide equipment and finance to these schools through grants from the State Government and local taxes. Such educational institutions are directly under the control of these Local Bodies.
For meeting the expenditure, the school committees should receive:
(1) A grant-in-aid fixed on the basis of equalisation.
(2) A certain proportion of the income of the local village panchayat.
State grants to local bodies on account of primary education should be based on a combination of the
(a) proportional grants, (b) a special grant for backward areas and (c) specific purpose grants.
It would be in the interest of education to make it obligatory on municipalities to earmark a specified proportion of their net revenue for primary education. All funds thus earmarked for Primary Education should be entitled to receive grant-in-aid according to rules.
Quality Management:
Higher Education:
At present, India's GER is 15 per cent in higher education, which is much lower than the world average of 23 per cent. The aim is to increase the GER (Gross Enrolment Ratio) to 21 per cent by the end of the 12th Plan and 30 per cent by 2020. The number of unaided higher education institutions has increased over the years (currently 63 percent of institutions are private). With about 50 per cent share in enrolment, private institutions have improved access. However, they are concentrated in a few select disciplines such as engineering, management, medicine, and information technology (IT). Also, the spread of private institutions is uneven, with some states witnessing more growth than others.
UGC (University grant commission):
UGC has the power to determine and maintain standards and to disburse grants. Universities can be central, state, private, or deemed. UGC stipulates that colleges that provide degree courses have to be affiliated with a university. UGC provides minimum qualification of teachers, guidelines for award of various degrees and standards that private universities have to maintain. It can also regulate fees of universities if it is in the public interest to do so and prohibits such universities from taking any donations.
UGC is the authoritative body organization set up in our country by the Central Government in 1956 to control, coordinate, determine and maintain the standards of Higher education. Universities can start functioning only after getting the prior sanction and recognition of the UGC. Necessary funding is also through the body. The mandates of UGC are like:
● Promoting and coordinating university education.
● Determining and maintaining standards of teaching, examination and research in universities.
● Framing regulations on minimum standards of education.
● Disbursing grants to the universities and colleges.
● Advising the Central and State governments on the measures necessary for improvement of university education.
National Assessment and Accreditation Council(NAAC) and the National Board of Accreditation(NBA) are autonomous bodies that accredited institutions, set up by the UGC and the AICTE, respectively.
NAAC (National Assessment and Accreditation Council):
Objectives:
To act as a catalytic agent to motivate Higher Education Institutes to achieve excellence in all spheres of academic activity
To promote the idea of accountability among the academics.It is mandatory for such institutions to undergo the process of accreditation.
NAAC has its own regulation criteria. It has identified the following seven criteria to serve as the basis for its assessment procedures:
Curricular aspect
Teaching-learning and evaluation
Research Guidance and extension
Infrastructure and learning resources
Student support and progression
Governance, leadership and management
Innovations and best practices
(NAAC), proposes that every accredited institution should establish an Internal Quality Assurance Cell (IQAC) as a post-accreditation quality sustenance measure. Since quality enhancement is a continuous process, the IQAC will become a part of the institution's system and work towards the realization of the goals of quality enhancement and sustenance. During the post accreditation period, it will channelize all efforts and measures of the institution towards promoting its holistic academic excellence. It promotes the performance evaluation and quality up-gradation of institutions of higher education.
Some of the key challenges are related to access, quality, governance and funding. issues related to regulation of the private sector
(a)Access:
India's GER in higher education is about 15 per cent. Other countries such as the United States (US) (81 per cent), the United Kingdom (UK) (54 per cent), Japan (49 per cent), and Malaysia (27 per cent) have much higher enrolment rates.
b) Quality:
No Indian university is listed in the top 100 universities in the world and only two are listed in the top 200. There are problems like universities are of poor quality, low quality of research, and improper
practices in admission process.
c) Funding:
Universities in India face financial constraints. Only 0.7 per cent of India's GDP is spent on higher education which is lower than countries such as the US (2.9 per cent ), UK (1.3 per cent) and China (1.5 per cent). In general, about 75 per cent of maintenance expenditure is spent on salaries and pensions, and 15 per cent is absorbed by claims such as rents, electricity, telephones, and examinations.
d) Governance:
India's National Policy on Education, 1986 emphasised the need for decentralisation, autonomy of educational institutions and the principle of accountability in managing educational institutions. The regulatory bodies have a procedure for granting recognition and there is large
scale corruption.
e) Regulation of Private Sector:
Various Supreme Court judgments have sought to curb by ordering varying degree of control on private institutions. States such as Madhya Pradesh, Andhra Pradesh, Gujarat, Karnataka, and Orissa enacted laws to set up such committees to approve the fee structure in professional educational institutions. On the other hand, the private institutes claim that capitation fee is required to ensure financial viability of the institution. Some experts also contend that allowing only non-profit entities to operate in the education sector does not ensure quality, nor does it increase supply or curb charging of capitation fees. The non-profit status may act as an incentive for players since such entities get tax exemptions, which makes it easier to launder money
f) Admission in Private Institutes:
This is also regulated by the government. Certain numbers of seats are marked as government seats where students pay the equivalent of the fee charged in government institutes. About 15 per cent of seats are categorized as management quota, where students pay the fee as mandated by the Fee Regulatory Committee. The 3rd Constitutional Amendment enables the Parliament or State Assemblies to enact laws reserving seats for SC/ST/OBC in private institutions.
National University of Educational Planning and Administration (NUEPA):
NUEPA is an autonomous body established by the ministry of Human Resource Development, Government of India. It is a prime organization dealing with capacity building and research in planning and management of education not only in India, but also in South Asia. The Government of India has empowered it to award its own degree by way of conferring on it the Status of deemed university. Like any other Central university NUEPA is fully maintained by Government of India.
This institution conducts research, organizes training, provides many services and disseminates important information on innovations, changes and developments in the areas of planning and management.
Many states are also in the process of setting up State Institutes of Educational Management and Training (SIEMT), to assist state level educational planning and training of educational planners and administrators. Regulatory Frameworks at various levels like
● Elementary
● Secondary
● Higher Level
Academic Supports Provided by NUEPA to Center and State Government are as follows
Organize pre-service and in-service training programme:
Co-ordinating research:
Providing Guidance:
clearinghouse of ideas and information
Publishing Journals and Periodicals on Educational Planning and administration.
Organizing Workshops, Trainings and Seminars:
Consultancy Services for Centre as well as State Government Universities
Organizing Refresher Courses for Teacher Educators
Discussion and Issues of National significance.
Contacts and Collaborations with UGC, NCERT, CSIR, etc.