Hi dear friends. Today turns out to be very positive. I would like to substantiate this statement by narrating a series of events.
Last Saturday I was very much down as I could not able to perform my test as expected. I got frustrated. Especially with one month down the line
I got my test coming. I find this test as crucial to go to my next level in life. I not only decided to pursue a Ph.D. in agricultural economics but I feel this would open up various other avenues like my passion to create in the field of the visual medium. My plan of joining IIT madras not only lies in doing p.hd but also to become creative along with its old film fraternity group. So clearing this NTA-NET exam in a way is crucial for implementing the plan of my mind.
But confusion still persists whether I get a seat in IIT Madras. The main concern has been my lack of masters degree in the field of sociology. By shifting from science stream to humanities, it creates a mind storm often whenever I think about my admission into the institutes. Anyway, I stick on to pursue by going for sociology as it has been my choice for mains in civil service exam. So the top priority has been clearing the exam.
But in recent time as the exam approaches closer, I feel like I am losing my coolness. I console myself by saying everything will be alright as I worked for it for the last six months. I also know that it would be unfair to ask this universe any favors without putting genuine efforts. But still, I feel positive about my work as I could keep my distractions at bay that arises time and again in the form of girls and friends.
Here in chennai, it was too hot that I am melting like ice cream whenever I stepped outside the library. Nevertheless, I manage. For the past month, our room has turned like a furnace in the day and filled with steam at night. It adds to the fury of my state of being down.
The last Saturday I returned back from the library with a doom of sadness that I do not have a single paisa in my wallet.
I was upset as I did not receive the money which I lent to a friend. As soon as I came back to my room I stepped into the kitchen and found some poya (flaked rice). I ate that quickly and went upstairs where I usually sleep. But on that day I tried something different I went still up by climbing upstairs from where I could see the nearby areas. It was quite a pitch of height and found myself soothing in a cool breeze. Somehow there was humming music of Eminem playing inside me.
As I am typing, i am searching what was the music? But it was this one line that I was humming
" The top gets higher the more that I climb " Only the music reverberates inside.
Though in this music he relates to his career success, I am not doing anything so much successful. Just a feeling, that I could clear my obstacles of life, at that moment, that enables me to find a place to sleep higher than the regular place. Saturday has gone just like that I feel so down with no availability of interesting food and being conscious about the fact that time is foregoing fast.
Sunday has arrived, morning has gone by watching a Hindi series laakhon mein. It was good as the web series stirred every kind of emotions in myself.
One day I thought I would create something better than that. It grabs my attention of keenly understanding the plot as it handles a political drama. How the state of polity involves the health of rural people was the central core. To my surprise, it was not like any other Bollywood film but casts with less of an art and more of the real picture from the grassroots of the nation.
I would appreciate the director as in one of the episodes the plot of the story tries to be correlated with a ram and Ravana story.
I felt it as a real piece of art as many of great thinkers believe India as a society still lives in the village. Again a strange thought of me in exploring every part of village arises.
By evening I was drying out of data. So put a schedule for next month to be followed. I went back to upstairs to sleep early so that expecting to wake up early becomes reasonable. Though it had been a long pending demand from my inner soul. I found myself waking up in a pleasant morning as you can see from the bottom image.
Though it was sometimes late as planned, nevertheless the morning was so beautiful with scattered sunlight in clouds looking orange. With such a view, I did not go to running but went to turn on my laptop for a brief revision. After a while, my mind stops consuming data from the laptop. I stopped typing in my laptop for taking notes from the book.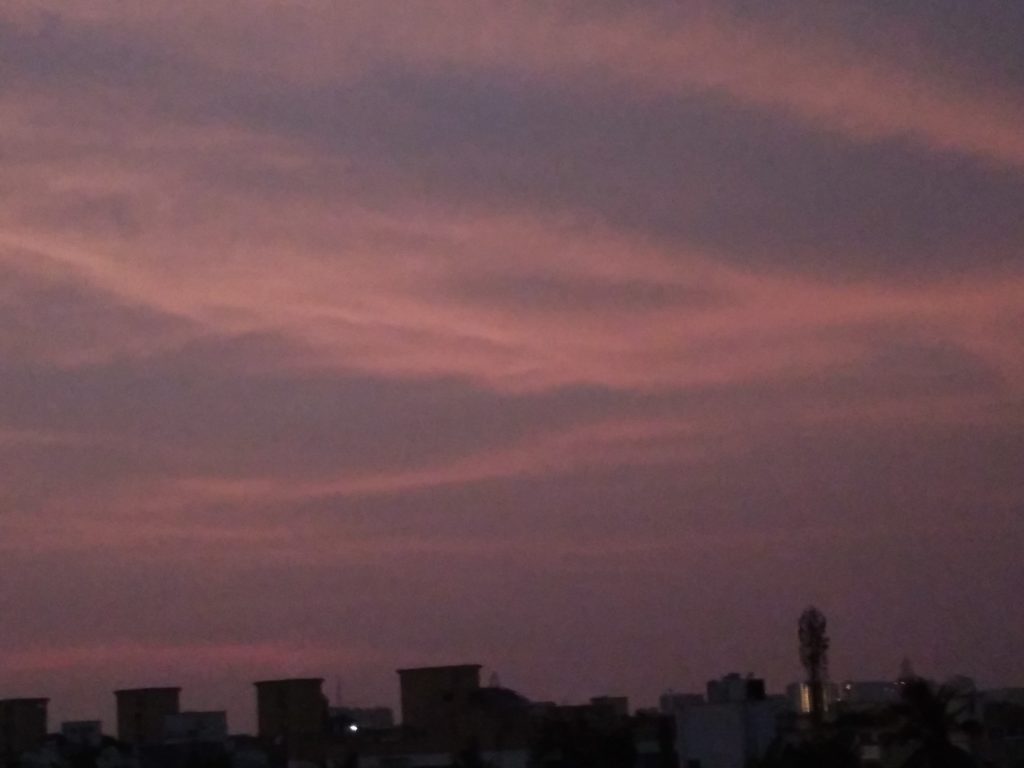 Again I went upstairs and done some stretching to get back to the library. Not to forget that I regained my pullup strength. I set a target of doing 100 pushups daily. But it begins with only half of the original set target. In the afternoon, I got a message like Aladdin hiding in a lamp, that I found myself to know, my parents, had put some money in my bank account.
Oh god, two days I managed somehow it was not so bad but as am a foodie it some times feel terrible if I don't eat spicily.
It's not essential to eat more quanta of food. But in a limited way, even if once a day food is available, that has to be variety and healthy dishes. So, that I can feed both my intelligence and hunger for existence.
At night, I ordered hot and spicy tandoori chicken from zomato. To be economical, I got 10 pieces of chappati from Amma hotel which costs fifteen rupees. I specifically mentioned in the add instruction column to attach mint chutney and nimboo (lemon). I also called the hotel to make them remember to add the chutney. I was so eager to tickle my taste buds. Not to forget the before night my roommate was having his dinner with some chicken in it. It grabs my attention but I did not ask him. I know even if I ask I could get some which would never fulfill my appetite.
As the end of day approaches, I cherish the moments that I ordered some hot spicy food. I remember how funny that I left early from the library despite having some hard schedule for the exam. But I know it's responsible for me to use the given time to use my freedom.
Yeah after a long time, I got hot and spicy half a kilo tandoori, which I ordered for half the rate with the available coupons. I even got some additional credits by predicting the correct IPL winner. The fun is I never watch IPL.
Best closing day as i finished the dishes by getting an ice cream. Even though I didn't have cash in hand, with me, i got 100 sums of money from my roommate to have belgian chocolate flavor.